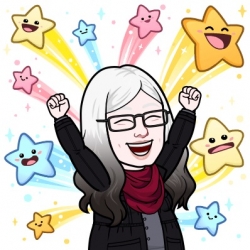 Latest posts by Bonny Albo
(see all)
Years ago I decided I wanted to return to school and finish my degree (I never did – that's another Bonny Adventure story for a new day).
My favorite and most challenging class involved writing an essay showing my understanding of Italo Calvino's essay on Lightness; essentially, a six-piece treatise on how to write well. My professor loved my work so much, he gave it an A+ and asked if he could share it with future students. Flattered, I agreed.
Over the years, several people have asked to read this essay, and occasionally, I've shared it with folks near and dear to my heart. It's intensely personal, intimate, and still difficult to share with the world. Thus, I want to share it with you.
This is the piece in its entirety. At the time, I called it "Lightness", but I think it's better entitled, "How I Found Peace Within Myself".
---
No one would ever call me a "light" woman, and not just because I'm nearing 80 pounds over my goal weight. Since my early teens, friends have kindly suggested I "lighten up", but really I knew I was a weighty sort when I read a poem about my mother's death and my teacher ran out of class, crying. Activities that allowed me to float terrified me, such as when I tried repelling down a mountain and bawled hysterically the entire time. Even my words were heavy with expectation, like when I asked my first boyfriend why he didn't love me.
This heft in spirit and body helped me achieve numerous heights however, but not without its fair share of irony. For instance, I won the Terry Fox Humanitarian Award for my "academic, amateur sport, fitness, health and voluntary community service endeavours", yet I ate junk food and couldn't run without serious issue.
It wasn't until much later when I realized the flip side of my cultivated persona – lightness – had its merits. While attending a karma yoga program on Salt Spring Island, I was not only the largest person in attendance, I was also the least able to perform my duties and the most talkative. I didn't fit into the airy commune full of people who hadn't spoken for 30 years, meditated religiously, and found peace in tending to garden slugs with ahimsa.
Why I couldn't be more like these desirable, healthy, accepting people? I asked myself. I most envied a rolly polly woman named Kaliyani, with a shaved head that glowed white like a lit bulb and who oozed loving-kindness. If she could do it at 60, why did I struggle at 30? I had no real reason as to why as I was relatively unencumbered from the normal weight of my life. My daughter lived with her Dad, my ex left me three months prior, my job required weekly check-ins and few hours of work that flowed naturally and easily. So why did I struggle with being carefree and light, while the others found it with ease?
In turn, I chose not to speak one day a week. I hiked long hours, took on dish duties three times a day as meditative practice, and started attending early morning yoga classes. I discovered the joy in cleaning a toilet to benefit the next person using it. Even with all of these self-teaching moments, however, none of it really sunk in until I attended a Buddhist meditation group.
When I arrived, I joined the already large group in a circle, and once settled, the speaker for the evening sounded a gong, signifying the beginning of our silence.
Within minutes a horse brayed, piercing the air. As the farm on the property often provided a natural soundtrack for our sessions, no one moved. A few minutes later several pigs oinked loudly. A cat meowed in the distance while birds fanned their wings overhead. A few of us rustled, and I tried to move into contemplative mode amidst the noise. A cacophony soon followed: cows mooed, dogs rutted, birds flapped, pigs splashed, swans honked, chickens gossiped. The house cat got in on the activity by weaving herself around each of our bodies, sewing the tapestry of sound closed. Laughter broke out slowly, and then, uncontrollably.
That day, for the first time in my life, I felt light and completely bereft of stress, stooped posture and need. When I returned to the centre, a fellow yogi remarked, "Bonny, you're glowing!" I smiled in response, too happy to reply. I'd found what lightness of spirit meant, and I wasn't about to ruin it with words.